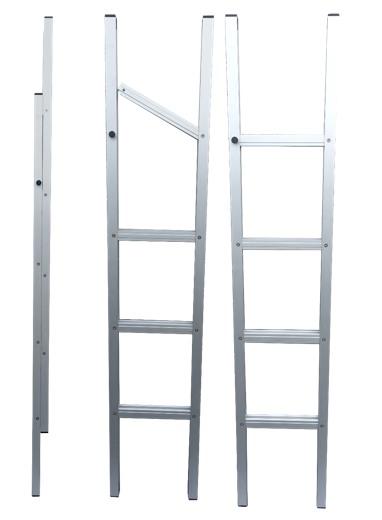 MODUM
Multi-function Ladder
– allround solution
MODUM Multi-function ladder is made of anodized aluminum and has a compact and elegant design. When the ladder is closed, the anti-slip steps are hidden inside the frame; this makes the ladder entirely maintenance-free.
Request a quote
Properties:
The original foldable ladders, designed and manufactured by MODUM ApS in Denmark.
Full anodized aluminium construction and stainless-steel fixings provide excellent durability when combined with professional installation we provide 15 years product warranty.
The profiles are rebated in a perfect fit and the ladder is weatherproof and maintenance free.
The slimline, fold-away design has a closed profile of only 72 mm.
Anti-slip aluminium steps are concealed inside the ladder's profile.
Optional MODUM hardness for extra safety.
Available in all RAL colours.
The installation is very simple and is usually finished in less an hour.
Standard length:
3 steps (open 1.240 mm, closed 1.490 mm)
4 steps (open 1.540 mm, closed 1.790 mm)
5 steps (open 1.840 mm, closed 2.090 mm)
Can be manufactured after individual needs.
Measurements:
Folded 60 mm deep x 40 mm wide.
Open 295 mm deep x 40 mm wide.
Weight 2,7 kg per running meter.
Click here for technical documents.
Download